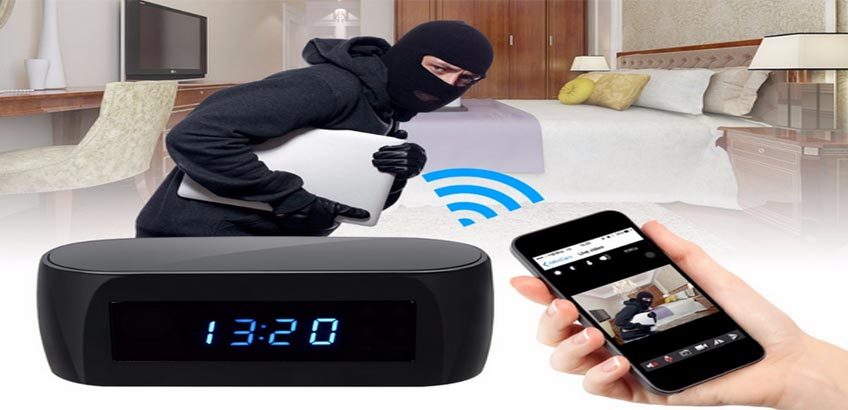 Choosing Security Cameras for Inside the Home
Choosing Security Cameras for Inside the Home can be a little bit daunting. It is important to think very carefully about how you intend to use the cameras. Cameras that are ideal for some people will be completely the wrong choice for others.
Why do you want to install Security Cameras Inside your Home?
There are a number of reasons why you might want to install surveillance cameras inside your home.
#1 Surveillance Cameras for Improved Security.
Having indoor Security cameras allow you to monitor events in your home 24/7 if you wish to do so. Should you be unfortunate enough to be burgled you will have photographs and video footage of the perpetrators to show to the police.
#2 Security Cameras to Monitor a Child Minder (or Employee)
If you are away from home and employ a Child Minder or Nanny having a 'nanny cam' that allows you to monitor the quality of care your child/children receive in your absence can provide you with peace of mind.
#3 Security Cameras to Help to Protect the Elderly or Infirm
If you have elderly parents who live alone or have poor health indoor security cameras allow you to keep a watchful eye over them. If you see that there is a problem of any kind you can obtain help or medical assistance for them quickly and easily.
Security Cameras for Inside the Home – Do I need Hidden Security Cameras?
Security Cameras for Inside the Home need to be hidden if you are trying to carry out covert surveillance of any kind or are using them for security purposes.
If you are using them to monitor the well being of an elderly relative or watching your children play in another room of the house hidden cameras are not usually required.
Generally speaking however the vast majority of indoor surveillance cameras that are bought are intended for discreet surveillance. This means that even if they are not going to be completely concealed they are at least likely to be positioned in such a way that they are not immediately obvious or visible.
6 Security Cameras for Inside the Home You Might Want to Consider
Discreet Security Cameras for Inside the Home
Here are 3 indoor security cameras that you may want to consider if you are not looking for cameras that are going to be completely concealed.
#1 Amcrest UltraHD 2K WiFi Camera
The Amcrest Ultra also has a built in two way speaker and microphone that allows you to hear, and communicate with, anyone within range.
Using the Amcrest View Pro app you are able to receive notification by text and email if unexpected movement is detected by the camera's motion sensors.
The camera only takes a few minutes to set up, using the free Amcrest View app, by anyone on a wifi network using a mobile device. Live video can then be viewed from any location via your smart phone, tablet or laptop computer.
If you leave your home and forget to schedule a recording or need to modify your motion detection settings these can also be set, or adjusted, via your smart phone or mobile device.
There are a number of data storage options available including FTP, NVR and Micro SD Card. You are also able to connect to the 'Amcrest Cloud' which offers cloud recording, live viewing and up to four hours of rolling video storage.
The Amcrest Ultra is intended to be used for discreet placement as opposed to being used for complete covert surveillance. The camera is approximately 5.2"x5.9"x7.8" high and is available in black, white or silver.
The Amcrest Ultra requires a power supply and an internet connection. The Amcrest Ultra is supplied with 12 month manufacturers warranty and lifetime support.
#2 The YI 1080p Indoor 2.4G home Surveillance System
The YI 1080p is a budget indoor surveillance camera. Do not let the low price put you off from considering this camera.
The lens of the YI 1080p camera has a very impressive 112° wide angle lens which is capable of capturing 15 frames per second. You have the ability to zoom in (up to x4) to focus your attention on small details should you wish to do so. The integrated gyroscopic support also allows you to see a panoramic view ot the area you are monitoring.
The system features two way audio that can be accessed from anywhere there is a Wifi Connection. Acitity reports, such as baby crying or motion detection, can be sent directly to your Smart Phone. Camera can be set to record 24/7 onto an SD Card. Cloud storage is available if you want to use it to ensure that all your recordings are kept securely.
The camera also has a night vision facility that consists of 8 x 940nm infrared LED's that turn on automatically once the light level has dropped sufficiently.
Should you have installed more than one camera in your home with the YI Home App you are able to view the live feed from up to 4 cameras simultaneously.
#3 Tenvis HD IP Camera

The Tenvis HD IP Camera is another budget priced indoor home surveillance camera that offers great value for money.
The camera is quick and easy to set up (one click connection) once it has been connected to the internet via Wifi or Ethernet cabling.
The camera has a full pan and tilt facility and is able to rotate through 340 degrees horizontally and 105 degrees vertically to give virtually full coverage of any area that you want to monitor. As many cameras as you wish can be added to the system via the App and using the Tenvis 'onvif' service.
The camera has 11 Infrared LED's that allow support a night vision of up to 10 metres/32 feet.
The sensitive motion detection function is able to alert you of a problem within 3 seconds of it being triggered. The 2 way audio facility allows you hear, and communicate with, anyone within the vicinity of the camera's location.
Video footage can be saved to an SD card or your cell phone. The camera is capable of accepting a 128GB SD card which can store up to 60 days video footage (The SD Card is sold separately).
The camera does require a power supply to operate.
Covert Security Cameras for Inside the Home
You may feel that you need to have your indoor security cameras completely hidden. If this is the case there are a number of Security Cameras for Inside the Home that have been designed to look exactly like other familiar household objects with a view to making them virtually undetectable.
Here are 3 options for Covert Security Cameras for Inside the Home that are extremely popular and effective!
#1 FUVISION Wifi Security Camera Photo Frame
Most homes have photographs of family and friends displayed in virtually every room of the house. Even if an intruder enters your home and is keeping a watchful eye open for a security camera there is a good chance that he will overlook this.
The FUVISION Wifi Security Camera Photo Frame features PIR Motion Detector, Night Vision and a Live View Facility.
The unit is battery powered so there is no tell tale power lead. The battery is a rechargeable 10000Ah unit that has an operating life of 365 days on standby.
The camera is not designed to record 24/7, it records only when the motion sensor is triggered. The video imaging is saved to the internal 128Gb micro SD Memory Card. Instant alerts are also sent directly to your Smart Phone or Android device.
The inbuild 'no glow' night vision LED's have a viewing distance of up to 20 feet.
#2 The BlueHills Smoke Detector Security Alarm
If you are looking for covert Security Cameras for Inside the Home there really cannot be a better solution than buying a camera that is disguised as a smoke alarm.
The BlueHills White Compact HD 1080P Security Camera looks exactly like any smoke alarm that you might find in any home environment. It is attached to the ceiling (or wall) via a mounting bracket that is supplied in the kit. The camera is a WiFi unit but it does need to be connected to the household power supply in order for it to operate.
The camera is only 3.5" in diameter and, when fitted to the ceiling, gives a full 360 degree wide angle view of the room in which it is installed.The BlueHills White Compact HD 1080P Security Camera has a motion detection facility and night vision. You have the ability to monitor multiple locations, using the app, from your Apple or android devices. The built in microphone and speaker allow you to communicate with anyone in the location of the camera from anywhere you happen to be.
Power Outlet WF-113 Wireless Spy Camera
The WF-113 Wireless Spy Camera looks exactly like any normal AC power outlet point. In fact this unit actually has fully functioning power outlet and USB charging ports.
Very few intruders are likely to suspect that the power point you have your table lamp plugged into is actually a surveillance camera!
The unit has a wide angle high resolution lens that is designed to give a sharp, crisp picture even in extremely low light conditions.
The WF-113 Wireless Spy Camera can be set up and working in minutes and can be accessed from any I-phone, android smart phone or tablet. The internal 8GB SD memory card can record up to 36 hours of video.
Although Security Cameras for Inside the Home can be used for covert surveillance for added home security there are also other measures that you can, and should, take to protect your home from burglars.Outdoor alarms and cameras can act as a useful deterrent and help to prevent home invasions from happening. A good efficient outdoor lighting system will also help to reduce the chances of your home being targetted by burglars.